Russian encodings:
AUTO | KOI | MAC | DOS | WIN | LAT
---

---
Театр имени Шота Руставели
Тбилиси, Грузия
"The Snake Woman"
Carlo Gozzi
---
Directed by Robert Sturua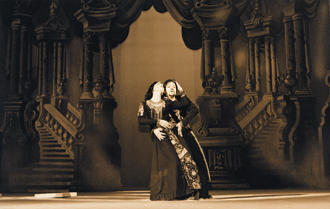 ---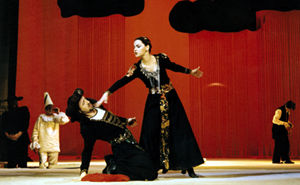 Cast:

David Darchia (Farruscad)
Nino Kasradze (Kerestani)
Nino Tarkhan-Mouravi (Badridin)
Nino Arsenishvili (Ria)
Nana Shonia or Marina Kakhiani (Kantsade)
Temur Chichinadze (Togrul)
Vano Gogitidze (Baadur)
Nana Khuskivadze (Smeraldina)
Zaza Papuashvili (Pantalone)
Malkhaz Kvrivishvili (Truffaldino)
Levan Berikashvili (Tartaglia)
Leri Gaprindashvili (Brighella)
Daredzhan Kharshiladze (Ferdzana)
Nana Shonia or Marina Kakhiani (Dzemina)
David Iashvili or Mamuka Loria (Dzheonka)
Zaza Baratashvili and Gela Otarashvili (Soldiers)
---
Robert Sturua is one of the outstanding theatre directors of today, a winner of the State Prize of the USSR and of Georgia and a holder of the title of the Public Actor of the USSR. He was born in Tbilisi in 1938, and he graduated from the Tbilisi Institute of Theatrical Art in 1962. After graduation he joined the Rustaveli Theatre as a director. He became the Artistic Director of the Rustaveli in 1980. His first major success came with his 1965 direction of Arthur Miller's The Crucible (Salem Witchcraft Trials), which was followed in the seventies with a series of brilliant productions, showing Sturua's mature talent as a director. It was during that time that the notion of "Sturua's theatre" was born.

Sturua's productions brought world-wide recognition to the Rustaveli Theatre. It has performed in Moscow and Dusseldorf, Mexico and Edinburgh, Jerusalem and Rome.

Robert Sturua's work as a director has not been confined to Georgia alone. His productions of plays by Shakespeare, Sophocles, Moliere, Brecht and Chekhov with various foreign companies have been performed in a number of theatres in various parts of the world.

Robert Sturua has received the Rustaveli, the Mardzhanishvili and the Akhmeteli Awards. He became the first winner of the recently established Tumanishvili Award.
---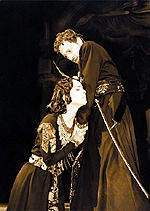 Mossovet Theatre
18, 19 April
Bolshaya Sadovaya St., 16
---
Lamara | Festival Homepage | 7 for a Secret never to be told
---
Write us: chekhov_fest@theatre.ru