Russian encodings:
AUTO | KOI | MAC | DOS | WIN | LAT
---

---
Volksbuehne
Berlin, Germany
"Three Sisters"
---
Translated by Peter Urban
Directed by Christoph Marthaler
Designed by Anna Viebrock
Literary editor Matthias Lilienthal
Lighting designed by Ulrich Schneider
---
Cast:
Susanne Duellmann (Masha)
Heide Kipp (Olga)
Olivia Grigolli (Irena)
Peter Fitz (Vershinin)
Martin Horn (Tuzenbach)
Winfried Wagner (Solyony)
Joachim Tomaschevsky (Kulygin)
Klaus Mertens (Chebutykin)
and others.
---
Christoph Marthaler, a Swiss by birth, began his creative career as a musician. Having received a sound formal musical education, combined with a course of training at the Lecocque School in Paris, Marthaler from the mid-1970s was working with Europe's major German-language theatres. An important event in his career was his production of Kill a European at the Volksbuhne in Berlin (the 1992-1993 season).

At present Marthaler is associated with a number of companies in Germany: the Deutsches Schauspielhaus in Hamburg, the Berlin Volksbuehne, the Frankfurt Opera and others. A production that was particularly well-received was The Zero Hour, or the Art of Laying the Table (1995, Hamburg) and Kasimir and Karolina (1996, Hamburg).
---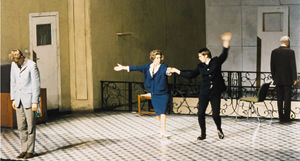 "The Volksbuhne" theatre opened in Berlin in the last century, in 1890, on the crest of a movement in favour of democratic theatre. However its official birthdate is 1914 - the year in which it moved into a building of its own. Its first Artistic Director was Max Reinhard. After World War II Volksbuehne became one of the leading theatres in Eastern Germany. At different times the company was directed by such outstanding German theatre personalities as Erwin Piscator, Beno Besson, Heiner Muller and others. In the late 1980s the theatre was on the verge of closure. It was revived by Frank Kastorf, who became its Artistic Director in 1992. Kastorf formed as an artist in GDR, and he combines "a socialist's mentality with the anarchism of a Western intellectual". He has formed his own team, his own theatre which has the best of both worlds, as it were, imbibing all that is worthwhile and viable in either eastern or western German cultures.
---
Moscow Chekhov Art Theatre
10, 11 April
Kamergersky Lane, 3
---
Even a Wise Man Stumbles | Festival Homepage | Eugene Onegin
---
Write us: chekhov_fest@theatre.ru