Russian encodings:
MAC | KOI | MAC | DOS | WIN | LAT
---

---
Ultima Vez
Brussels, Belgium
"7 for a Secret never to be told"
---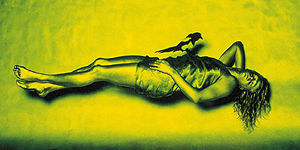 Choreography and direction by Wim Vandekeybus
Music by Arno, Charo Calvo, Pascal Comelade, Thierry De Mey, Kimmo Hakola, Pierre Vervloesem
Sets and costumes designed by Isabelle Lhoas
Lighting designed by Dries Vercruysse, Wim Vandekeybus
---
With:
Nordine Benchorf, John Campbell, Carlos de Haro Flores, Lorenza Di Calagero, Lieve Meeussen, Rasmus Olme, Orlando Ortega Gonzalez, Celine Perroud and Isabelle Schad
---
| | |
| --- | --- |
| | Wim Vandekeybus evokes a dramatic effect by juxtaposing plastic movement, music and scenography. Thus, according to one critic, the performance entitled What the Body Does Not Remember (1987) was distinguished by "a brutal conflict of dance and music, by a bellicose, aggressive landscape, which showed what the body really did not remember". The Weight of a Hand (1989) revealed a "confrontation" between the actors and the musicians. In the video film Roseland (1990), which Vandekeybus made in collaboration with Walter Verdin and Octavio Strube the dance was performed in an unexpected and visually effective setting of a half-ruined disused cinema theatre in Brussels. The action of another of his video films, Le Mentira (1993), was partly set in Antwerp, partly in a desolate landscape near Granada in Spain. His production of Her Body Doesn't Fit Her Soul (1993), which has won prizes at several international European festivals, Wim Vandekeybus staged with blind dancers. |
---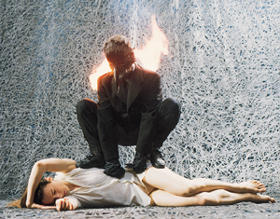 "One for sorrow, two for joy, three for a girl, and four for a boy, five for silver, six for gold, seven for a secret ne'er to be told". The day I found this rhyme I decided to use it as a script for my new piece. A script of seven words. A theatre-text or a dictionary containing seven words only: two extreme emotions, the two sexes, two precious metals and a secret. The dancers and myself took the freedom to give to these seven words an existence through movement, through people. For each scene we developed a specific scenography and different movement material. I wanted to bring these words on stage in a human way, in a passionate way.".

Wim Vandekeybus
---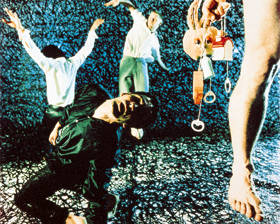 The theatre was founded by Wim Vandekeybus, choreographer and artistic director, in 1987. The company consists of twelve actors and a small administrative and technical department. The Ultima Vez has produced twelve plays and video films, including Elba and Federico (1993), Deprived of a Happy Union (1996), 7 for a Secret Never to Be Told (1997) and others. The productions by Vandekeybus's work and the Ultima Vez have invariably caused interest in the world of theatre and choreography, and the company has successfully toured in Western Europe, USA, Mexico, Japan and Israel.
---
Pushkin Drama Theatre
20, 21 April
Tverskoy Boulevard, 23
---
The Snake Woman | Festival Homepage | Ivanov
---
Write us: chekhov_fest@theatre.ru