Russian encodings:
AUTO | KOI | MAC | DOS | WIN | LAT
---

---
Theatre Centre
Tbilisi, Georgia
"A Dance of Death"
---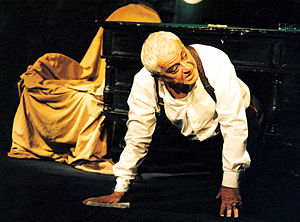 Directed by Avtandil Varsimashvili
Designed by Shota Glurdzhidze
Music by Vato Kakhidze
---
Cast:
Ramaz Chkhikvadze
Guram Sagaradze
Nana Pachuashvili.
---
| | |
| --- | --- |
| | Avtandil Varsimashvili - theatre, movie and TV director. Generald█rector of Theatre centre. Staged more than 20 plays, both in Georgia and Abroad. The most successful were his plays: Titus Andronicus by William Sheakespeare in the Rustaveli Theatre, Beautiful Georgian Woman by Carlo Goldoni in the Rustaveli Theatre, A Dance of Death by August Strindberg in the Tbilisi Theatre Centre, Don Juan in the Saarbruken Theatre of Mime and Drama (Germany). Movies: The Gentle One (screen version of Dostoevskiy's novel) joint production of Georgia and Italy. TV: A House in the old district (Rose-Marie's Child). |
---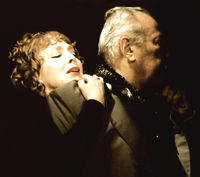 Tbilisi Teatre Centre was established in 1996; it works on the principle of enterprise. Repertoire: A Dance of Death by August Strindberg, Mario and the Magician by Tomas Mann, Delire a deux by Ionesko, Fear and Despair by Bertolt Brecht. Prepared for staging: The Entertainer by John Osborne (director A. Varsimashvili) and The Beggars' Opera by Brecht.
---
Taganka Theatre
6, 7 May
Zemlyanoy Val, 76/21
---
A Play Without a Title | Festival Homepage | The Gospel at Colonus
---
Write us: chekhov_fest@theatre.ru