Russian encodings:
AUTO | KOI | MAC | DOS | WIN | LAT
---

---
Theatre "Novaya Opera"
Moscow, Russia
"Eugene Onegin"
Piotr Chaikovsky
Lyrical scenes
---
Music directed and conducted by Yevgeny Kolobov
Directed by Sergei Artsybashev
Sets designed by Sergei Barkhin
Costumes designed by Eleonora Maklakova
Choirmasters Natalia Popovich and Sergei Lysenko

---

Cast:

Y.Abakumovskaya, E.Svechnikova (Larina)
E.Kichigina, L.Tokarskaya (Tatiana)
E.Gubina, I.Romishevskaya (Olga)
M.Diakov, A.Spekhov, A.Bretzs (Eugene Onegin)
K.Andreev, M.Gareev, S.Drobyshevsky (Lensky)
and others

Solo parts in the orchestra:
A.Kobozev (flute)
T.Zolotko (oboe)
A.Karpov (clarinet)
A.Kozhevnikov (bassoon)
and others
---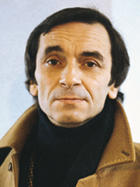 Yevgeni Kolobov is one of the most popular figures in the musical life of Moscow today. The very words, Kolobov's "Novaya Opera" Theatre, have come to imply talent and enthusiasm.Kolobov's performance is marked not only with superb skill, innovation and good taste, but also with a rare ardour and love for what is the work of his life.The artistic director and principal conductor of the Moscow Municipal Theatre "Novaya Opera" desribes himself as a tragic romantic.
---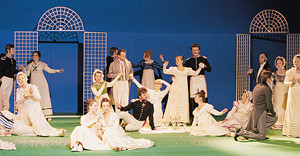 The "Novaya Opera" Theatre asserts not only in its name, but also in practice an entirely new attitude towards opera. Having abandoned many traditional features of operatic performance and focusing on its purely musical aspect, the company creates unique theatrical interpretations of musical works of different times. The Municipal Theatre "Novaya Opera" is the youngest opera company in Moscow. Set up in 1991 on the initiative and with personal support of Moscow's Mayor Yuri Luzhkov, it is a repertory company structurally patterned on the major world opera theatres. Above all else this theatre prizes professional competence, natural artistic ease and a fresh approach to the wellknown. Top-quality perfomance is indispensable. The company's creative spirit shows in its independence of the common operatic canons and hidebound theatrical routine. The easy and unaffected nature of musical performance is in harmony with the undisguised modernity of a theatrical show.
---
Novaya Opera Theatre
10 April
Taganskaya St., 40/42
---
Three Sisters | Festival Homepage | The Face of Orpheus
---
Write us: chekhov_fest@theatre.ru