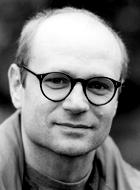 Hans-Ulrich Becker belongs to the generation of German directors who were beginning their career in the late 1980s, a few years before the unification of Germany. After a sound professional schooling at the Munich Bavarian Theatre, Becker worked with theatre companies in various parts of the country: in Aachen, Heidelberg, and Manheim. Among the productions he directed over that period were Iphigenia at Aulis by Euripides, Shakespeare's Macbeth, Kleist's The Schroffenstein Family, Chekhov's Platonov, and Venedict Yerofeev's Walpurgisnacht, or the Steps of the Knight Commander.

Since the season of 1995-1996, Becker has been working at the Stuttgart Theatre, where he has staged Moliere's Le Misanthrope, Euripides' Medea, and The Hunting Society by Bernhardt. These productions have revealed Becker's distinct creative manner, which the State Theatre itself defines as 'poetic realism'.

Becker's current work is Buchner's Wojciech scheduled to open at the end of this season.