Russian encodings:
AUTO | KOI | MAC | DOS | WIN | LAT
---

---
Wroclaw Polski Theatre
Wroclaw, Poland
"Emmanuel Kant"
Thomas Bernhard
---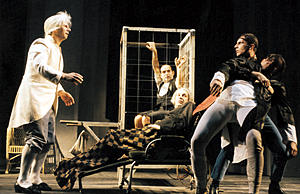 Translated by Acek Buras

Script and set design by Krystian Lupa

Directed by Krystian Lupa

Music by Jacek Ostaszewski
---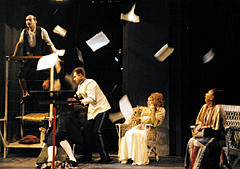 Cast:

Wojciech Ziemianski (Kant)
Krzesislawa Dubielowna (Mrs.Kant)
Henryk Niebudek (Ernst Ludwik)
Krzysztof Dracz (The Parrot)
Halina Rasiakowna (The Millionaire)
Milogost Reczek (The Captain)
Andrzej Mrozek (The Admiral)
Krzysztof Bauman (The Collector of art)
Adam Cywka (The Steward)
Pawel Okonski (The Cardinal)
Tadeusz Szynkow (The Cook)
and others
---
| | |
| --- | --- |
| | Krystian Lupa was born in 1943. He graduated from the Academy of Fine Arts and the department for drama directors at High Theatre School in Cracow. After graduating (1978) Lupa for almost two decades worked in only two theatres: Stary theatre in Cracow and Norwid Theatre in Jelenia Gora. The professor of High Theatre School since 1994. Immanuel Kant is Lupa's first experience with Polski Theatre in Wroclaw, though the leading part is played by the protagonist of his first productions in Jelenia Gora, Wojciech Ziemianski. The production has got the 3rd main award of the International Theatre Festival Kontakt in Torun, while Krystian Lupa has been awarded as the best director. This performance has been presented at the International Theatre Festival in Pilsen, October 1996, and at the Festival Mittelfest in Cividale (Italy). In 1998, July, it will represent Poland at the Theatre of Nations in Zurich. |
---
Krystian Lupa, the first alchemist of the Polish theatre, creates the spectacle with such splendid harmony, fine rhythm and beautiful images that one sails on this ship with permanent joy, seeing droll islands that pass by in the portholes. And only after disembarking one is aware that by no means can the collision with the iceberg be avoided.

"Politika"
---
Central Army Theatre
26, 27 April
Suvorov Square, 2
---
A Girl With Matches | Festival Homepage | Eternal Husband
---
Write us: chekhov_fest@theatre.ru