Russian encodings:
MAC | KOI | MAC | DOS | WIN | LAT
---

---
Mabou Mines
New York, USA
"Hajj"
poem performance
---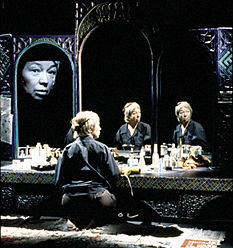 Performed by Ruth Maleczech
Video by Craig Jones
Poems and direction by Lee Breuer
Sets and lighting designed by Julie Archer
Music by Chris Abajjan
---
Performance prepared in collaboration with the American Film Institute, California Institute of Arts, Salt Lake Arts Projects and Video Transitions.
---
| | |
| --- | --- |
| | Ruth Maleczech is a first-generation American, born in Cleveland, Ohio, of Yugoslavian parents. Moving to Los Angeles, she attended UCLA as a Theatre Arts major. She began her professional work at The Actors Workshop and the San Francisco Mime Troupe in 1960. In 1970 after long travel to Europe where she had worked in Paris, London and Edinburgh, Ruth returned to New York City to become one of the founding members of Mabou Mines theatre company. For Hajj Maleczech received her second Obie Award. In 1984 she directed Samuel Beckett's Imagination Dead, Imagine as a large-scale holographic work at the Performing Garage. She was also the director and adaptor of Suenos, a music theatre work created with composer Herscchel Garfein and based on the life and poems of Sor Juana Ines De La Cruz. Her most recent works are title role in Mother - a new play by Patricia Spears Jones inspired by Gorky's novel - at "La Mama" and An Epilogue by Lee Breuer at "Here Art Centre" in Soho. |
---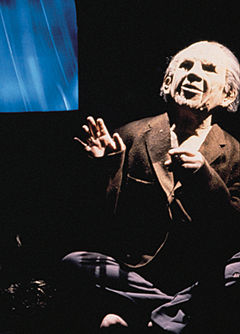 Mabou Mines was founded in 1970 in New York City. 25 years ago Mabou Mines bridged the gap between theatre and art. Years before "performance art" was popularized, Mabou Mines was a performance company, taking as its first principle the idea that life is performance. Mabou Mines believes in drama as a fusion of everything - mime, music, poetry and visual art. The company has a great experience of collaborating with such different composers as Philip Glass, Lenny Pickett, Bob Telson, avantgarde jazz saxo player John Zorn, accordion player Pauline Oliveros and David Byrne from "Talking Heads". Mabou Mines has produced eight pieces by Samuel Beckett, six of which have been world premieres of texts not originally written for the theatre. Mabou Mines has been awarded with more than 30 prizes. The best known of Mabou Mines productions - Lee Breuer's trilogy Animations (1970-1978, reconsructed in 1995), Ruth Maleczech performance Hajj, Peter and Wendy (based on James Barry's book).
---
Moscow Chekhov Art Theatre
8, 9, 10 May
Kamergersky Lane, 3
---
The Gospel at Colonus | Festival Homepage | The Book of Job
---
Write us: chekhov_fest@theatre.ru