Russian encodings:
AUTO | KOI | MAC | DOS | WIN | LAT
---

---
Mabou Mines
New-York, USA
"The Gospel at Colonus"
---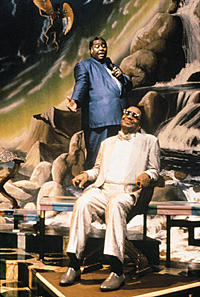 Adapted and directed by Lee Breuer
Music and musical direction by Bob Telson
Produced by Sharon Levy and Dovetail Productions
---
Cast:
Reverend Dr. Earl Miller (The Messenger)
Clarence Fountain (Oedipus)
and the Blind Boys of Alabama
Also starring:
J.D.Steele, the Soul Stirrers, Bernardine Mitchell, Reverend Carl Williams, Shari Seals, Jay Caldwell, Kevin Davis and Carolyn Johnston-White.
The musicians:
Bob Telson (piano and keyboards), Butch Heyward (organ), Leroy Clouden (drums)
The Chorus
---
Lee Breuer attended UCLA. After graduation he joined the San Francisco Actors Workshop as a director. Moving to Europe in 1965 he studied with the Berliner Ensemble and Jerzy Grotowski's Polish Theatre Lab and returned to New York in 1970 to become a founding member of Mabou Mines Theatre Company. Since that Breuer has worked with Mabou Mines as a director, author, adapter, producer and performer. His adaptations and directions of Beckett's works received wide critical acclaim.

His theatre works outside Mabou Mines include The Tempest for Joseph Papp's Shakespeare in the Park and Morton Subotnick's The Double Life of the Amphibias for the Olympics International Theatre Festival. Among other Breuer's musical works are The Warrior Ant, his most recent collaboration with Bob Telson and opera Lulu Noire.
---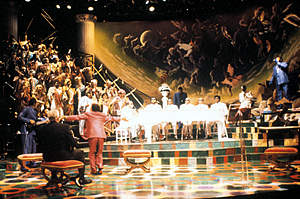 Mabou Mines was founded in 1970 in New York City. 25 years ago Mabou Mines bridged the gap between theatre and art. Years before "performance art" was popularized, Mabou Mines was a performance company, taking as its first principle the idea that life is performance. Mabou Mines believes in drama as a fusion of everything - mime, music, poetry and visual art. The company has a great experience of collaborating with such different composers as Philip Glass, Lenny Pickett, Bob Telson, avantgarde jazz saxo player John Zorn, accordion player Pauline Oliveros and David Byrne from "Talking Heads". Mabou Mines has produced eight pieces by Samuel Beckett, six of which have been world premieres of texts not originally written for the theatre. Mabou Mines has been awarded with more than 30 prizes. The best known of Mabou Mines productions - Lee Breuer's trilogy Animations (1970-1978, reconsructed in 1995), Ruth Maleczech performance Hajj, Peter and Wendy (based on James Barry's book).
---
Moscow Gorky Art Theatre
6, 7, 8, 9, 10 May
Theatre Tverskoy Boulevard, 26
---
A Dance of Death | Festival Homepage | Hajj
---
Write us: chekhov_fest@theatre.ru