Russian encodings
AUTO | KOI | MAC | DOS | WIN | LAT
---

---
The Young Spectators' Russian Theatre
Tashkent, Uzbekistan
"A Girl With Matches"
After Hans Christian Andersen
---
Dramatised and directed by Nabi Abdurakhmanov

Music by Dmitry Yanov-Yanovsky

Designed by Igor Gulenko

Choreography by Shukhrat Tokhtasimov, Malika Iskandarova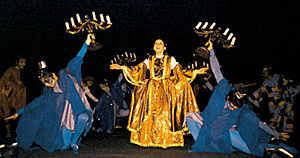 ---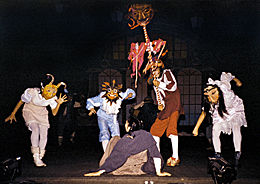 Cast:

Dina Mirboyazova (Girl)
Anvar Kartayev (Barrel-Organ Player)
Azat Bekmuratov (Fiddler)
Albert Khalmurzayev (Piper)
and others.
---
| | |
| --- | --- |
| | Nabi Abdurakhmanov directed his first production as a student - in 1980, when he began working with the Yosh Gvardia company. It was M. Vorfolomeev's A Saint and a Sinner. Over the eight years of his association with that theatre, Abdurakhmanov staged twenty-four plays, including Askad Mukhtar's Price of Gold, produced in the age-long tradition of Uzbek street theatre. In 1988 Abdurakhmanov formed a new theatre, Dard, which lived for over two years. In 1991 he became Artistic Director of the Tashkent Young Spectators' Russian Theatre. |
---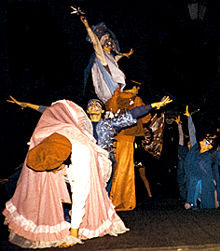 The theatre was formed in 1928. In its development the theatre is steadily moving towards synthetic art, integrating various artistic forms: the words, the singing, choreography, music and stage design - all brought together on an equal footing. This is why the Young Spectators' Theatre repertory features the musicals The Fiddler on the Roof and The Puss in Boots, the show performances A Feast of Disobedience and On Holiday Back to Childhood. An important event in this context was the production of Hans Christian Andersen's A Girl with Matches. At present the Children's Theatre is producing a new performance - a parable entitled The Constellation of Omar Khayyam.
---
Pushkin Drama Theatre
25, 26 April
Tverskoy Boulevard, 23
---
Upon My Life I Swear My Love For Sango | Festival Homepage | Emmanuel Kant
---
Write us: chekhov_fest@theatre.ru