Russian encodings:
AUTO | KOI | MAC | DOS | WIN | LAT
---

---
Koltsov Drama Theatre
Voronezh, Russia
"The Poor Bride"
Alexander Ostrovsky
---
Directed by Anatoly Ivanov
Choreography by Valery Potanin
Sets and costumes designed by Larisa and Mikhail Kurchenko
---
Cast:
M. Magdalinina (Larisa)
T.Semyonova (Ogudalova)
S. Karpov (Paratov)
V. Potanin (Karandyshev)
V. Sokolov (Knurov)
K. Afonin (Vozhevatov)
and others.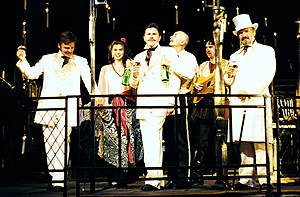 ---
| | |
| --- | --- |
| | Anatoly Ivanov was born in 1941. He graduated from Anatoly Efros' class at the State Institute of Theatrical Art in Moscow. His productions of Russian classics at the Voronezh Drama Theatre won him a State Prize of Russia. He does not like 'two-dimensional' plays where all characters are divided into 'noble souls' and 'villains'. He takes up a classical play only when it offers possibilities of original and unconventional interpretation. In 1996 the Voronezh Drama staged Ostrovsky's The Poor Bride, which immediately became one of its most popular productions. |
---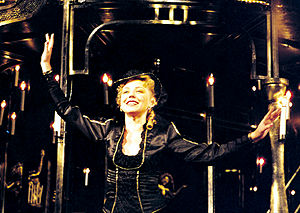 The Voronezh Drama Theatre is one of the oldest theatres in Russia. Its first production opened at the very beginning of the 19th century. Its stage saw the performance of the best actors of the Russian theatre: Mikhail Shchepkin, Pavel Mochalov, Alexander Martynov, Prov Sadovsky, Vladimir Davydov, Nikolai Rybakov, Maria Yermolova, Vera Komissarzhevskaya, Alexander Ostuzhev. The theatre is often referred to as 'Ostrovsky's House of the province', because Alexander Ostrovsky's plays form an important part of its repertory.

Osip Mandelstam was the head of its literary department during his exile. In 1959 the Voronezh Drama Theatre received the name of Alexander Koltsov, a Russian poet, whose entire life was linked with Voronezh.

Since 1991, its Artistic Director has been Anatoly Ivanov, who has staged 25 productions over the past ten years. Most of these productions were a great success both with the public and the critics.
---
Pushkin Drama Theatre
23 April
Tverskoy Boulevard, 23
---
Ivanov | Festival Homepage | Platonov
---
Write us: chekhov_fest@theatre.ru