Rusian encodings:
AUTO | KOI | MAC | DOS | WIN | LAT
---

Third International Chekhov Theatre Festival
---
---
---
Robert Brustein
As founding director of the Yale Repertory and American Repertory Theatres, Mr.Brustein has supervised well over two hundred productions, acting in eight and directing twelve (including his own adaptations of The Father, Ghosts, The Changeling, and the trilogy by Pirandello: Six Characters of an Author, Right You Are (If You Think You Are), and Tonight We Improvise). He has written eleven adaptations for the ART (most recently Schlemiel the First and The Wild Duck) and is the author of eleven books on theatre and society, including Reimagining American Theatre; The Theatre of Revolt; Making Scenes, a memoir of his Yale years when he was Dean of the Drama School; and Who Needs Theatre, a collection of reviews and essays for which he received his second George Jean Nathan Award for dramatic criticism. His latest book is Dumbocracy in America. Mr. Brustein is also Director of the Loeb Drama Centre, Professor of English at Harvard, and drama critic for the New Republic. His Six Characters in Search of an Author won the Boston Theatre Award for best production of 1996. His play Demons, which was broadcast on WGBH radio in 1993, had its stage world premiere as part of ARô New Stages. His new play Nobody Dies on Friday will be given its world premiere this spring in the same series.
---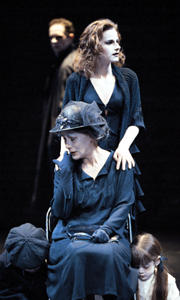 The American Repertory Theatre (AR.), founded by Robert Brustein, has been active for thirty years as a professional producing organization and theatrical training institution. Following his appointment as Dean of the Yale School of Drama in 1966, Mr. Brustein established the Yale Repertory Theatre and served as its Artistic Director for the next thirteen years. In 1980 Mr. Brustein, along with Managing Director Robert J. Orchard and the bulk of the artistic, technical, and administrative staff, moved to Cambridge, Massachusetts, where the newly named American Repertory Theatre began its association with Harvard University operating from the Loeb Drama Centre. Now in its eighteenth season in Cambridge, the Company has presented one hundred and thirty-four productions, sixty-six of which were premieres, new translations and adaptations; has toured the length of the United States as well as twelve foreign countries, and has become recognized as one of the premiere theatres in the country. As one of the few companies in this a resident acting ensemble still performing in rotating repertory, the American Repertory Theatre has welcomed major American and international theatre artists who, with their special talents, have enlivened the theatrical atmosphere of the whole nation.
---
Moscow Chekhov Art Theatre
26, 27, 28 March
Kamergersky Lane, 3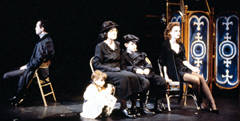 ---
Festival Homepage | "A Barbarian and a Heretic"
---
Write us: chekhov_fest@theatre.ru