Russian encodings:
AUTO | KOI | MAC | DOS | WIN | LAT
---

---
Wroclaw Polski Theatre
Wro"law, Poland
"Platonov. The Deleted Act"
Anton Chekhov
---
Translated by Adam Tarn

Directed by Jerzy Jarocki

Sets designed by Andrzej Witkowski

Music by Krzesimir Debski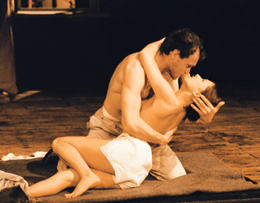 ---
Cast:

Mariusz Bonaszewski (Platonov)
Ewa Skibinska (Sonia)
Edwin Petrykat (Petrin)
Waldemar Glichowski (Shcherbuk)
Ferdynand Matysik (Marko)
Halina Skoczynska (Voynitseva)
Stanislaw Melski (Osip)
Jolanta Fraszynska (Sasha)
Boguslaw Danielewski (Glagoliev)
Marek Feliksiak (Kirill)
Kinga Preis (Katya)
Jolanta Zalewska (Grekova)
Zygmunt Bielawski (Triletsky)
Adas Mickiewicz or Marek Kaczynski (Kola)
---
| | |
| --- | --- |
| | Jerzy Jarocki was born in 1929. He graduated as an actor from the High Theatre School in Cracow and GITIS, Moscow. On returning home he started with The Ball of Mannequins by Bruno Jasienski in Wyspianski theatre. Since 1962 he has been the staff director of Stary theatre in Cracow. Since 1966 Jerzy Jarocki has been a professor of the High Theatre School in Cracow. In the 1990-s he collaborated with the Polski Theatre in Wroclaw. In 1994 his production of Platonov was proclaimed the most notable theatre performance of the season by the Theatre Critics' Club. In spring 1996 Jerzy Jarocki worked out a new scenario - supplement, Platonov. The Deleted Act, in which the fourth act of the play At School became the theme of a chamber performance, which has been awarded at the International 'Baltic House' Festival in St.Peterburg for the best direction. This production is invited to represent Poland at the Belgrade International Theatre Festival BITEF in 1998. |
---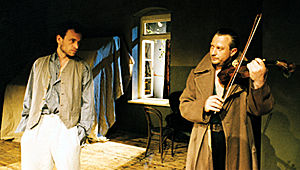 The Polski Theatre in Wroclaw launched its artistic activities in January 1946. It is the principal stage of the Lower Silesia and one of the most respected theatre companies in Poland. The most eminent Polish directors, such as Andrzej Wajda, Jerzy Jarocki, Jerzy Grzegorzewski, Kristian Lupa have worked at the Theatre. Significantly, it was on the large stage of this Theatre that Tadeusz Kantor presented all of the Cricot Theatre premieres. The Theatre, deeply involved in the stream of international festivals, having itself been for the last thirty years the organizer of the Contemporary Theatre Festival, has built up an extensive 'web' of contact, which bears fruit in the form of repertoire and personal exchanges.Only in the last years the Theatre has presented its performances in Chicago, Bonn, Cairo, Nitra, Pilsen, Cividale, St. Petersburg.
---
Moscow Chekhov Art Theatre, New Stage
23, 24 April
Kamergersky Lane, 3
---
The Poor Bride | Festival Homepage | Upon My Life I Swear My Love For Sango
---
Write us: chekhov_fest@theatre.ru