Russian encodings:
AUTO | KOI | MAC | DOS | WIN | LAT
---

---
Theatre On The Steps
Prague, Czech Republic
"Ivanov"
Anton Chekhov
---
Translator and literary consultant Leos Sucharipa
Text adaptation by Ivana Slamova
Directed by Petr Lebl
Sets designed by WN
Costumes designed by Katarina Stefova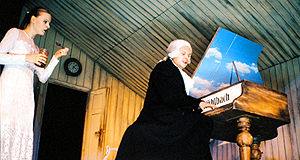 ---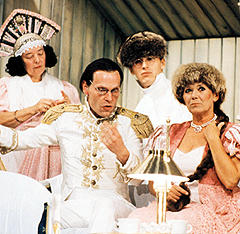 Cast:

Bohumil Klepl (Ivanov)
Eva Golubova (Sarrah)
Vladimir Marek (Shabelsky)
Leos Sucharipa (Lebedev)
Teodora Remindova (Sasha)
Radek Holub (Lvov)
and others.
---
Petr Lebl - director, stage designer, actor, graphic artist and author - is Artistic Director of the Divadlo Na Zabradli (Theatre on the Steps). He was born in Prague in 1965. From 1985 to 1990, he was the artistic director of the amateur drama studio JELO. Lebl's first professional productions were Voicev (the debut of the young Czech playwright E.Tobias, regarded as a manifesto of Czech post-modernism), and T.Dorst's Fernando Krapp Wrote Me a Letter, both staged at the Labyrinth in Prague. In 1993 Lebl produced Pitinsky's Little Room at the Theatre on the Steps, and in the same year he became Artistic Director of that theatre. His productions there include The Maids by Genet, Stroupeznicky's Our Swaggerers, Chekhov's The Seagull and Ivanov, Gogol's The Inspector-General, Synge's The Playboy of the Western World, the musical Cabaret, and Pitinsky's Mother.

Petr Lebl also contributes to Czech television, where he has directed nine Studio Kromeriz episodes (a series of fictitious debate programmes), filmed most of his theatre productions and a series of public interest talk shows broadcast from the small stage of the Na Zabradli theatre - the Eliade Library.
---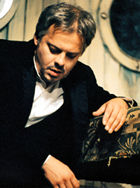 Since its opening in 1958, the Divadlo Na Zabradli, or Theatre on the Steps, has never betrayed its reputation for first-rate, innovatory productions. Their first production was If a Thousand Clarinets... staged by Ivan Vyskocil, Iiri Suchy and Ladislav Fialka. In the early 1960s, Jan Grossman, the director, and Vaclav Havel, head of literary department, laid the groundwork for the Czech absurd drama. In the 1970s and 1980s, the Divadlo Na Zabradli became a 'haven' for a succession of film directors of the Czech 'new wave', such as J.Iires, J. Krejcik, J. Mencel. J. Herz, and, above all, Evald Shorm, who staged such cult productions as Hamlet, The Brothers Karamazov, and Marathon. Artistic Director of the Theatre on the Steps today is Peter Lebl. In 1996, the company was rated as the best theatre of the year by the theatre magazine critics' poll.
---
Moscow Chekhov Art Theatre
21, 22 April
Kamergersky Lane, 3
---
7 for a Secret never to be told | Festival Homepage | At the Bottom
---
Write us: chekhov_fest@theatre.ru